Anticipate customer needs and maximize revenue, while refining your retention campaigns.
Whether offering triple-play, expanded data, group plans or faster network options, a little customer intelligence can go a long way to boost revenue and enhance customer loyalty in the process.
Download New Forrester Research Report:
How Analytics Drives Customer Life-Cycle Management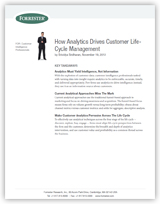 Get the latest information on:
How current analytics approaches miss the mark
True customer intelligence for more effective analytics and segmentation
Making analytics pervasive across the customer life-cycle
It's time to build stronger relationships with customers that reduce churn without disrupting your existing systems.
Pitney Bowes Software can help you build premium churn models that predict customer reactions and ideal targets for specific offers. Better understand customer and network data for optimum segmentation. Provide more focused communications from the start of customer relationships.
The Secret to Reducing Churn
Leveraging analytics for better customer insight in the communications industry.

"Using churn modeling, for example, XO Communications, a business-to-business (B2B) telecom service provider, boosted customer revenue retention by 60%."

Vision: The Customer Analytics Playbook
Srividya Sridharan, Forrester Research
Save money and improve performance on campaigns you're running right now. Check out the Forrester Report or call us at 800.327.8627.