Get on the Grid with MapInfo Pro Advanced


| | |
| --- | --- |
| | Any mapping tool is only as good as the data you can get into it. This article will cover the supported raster data formats and powerful convert capabilities in MapInfo Pro Advanced. It will also provide an overview of the various formats supported in the software. |

Background

Before we get started, here is some background if you are new to MapInfo Pro Advanced.

MapInfo Pro Advanced is an add-on for MapInfo Pro that provides powerful raster grid creation, visualisation and analysis capabilities. The first release of this product is referred to as MapInfo Pro Raster. With the second release (scheduled for late October 2015) we have changed the name to MapInfo Pro Advanced.

For background, here are some previous articles.


| | |
| --- | --- |
| Need an overview of some of the concepts behind raster grid mapping? | Click Here |
| Want to see an overview of what is in MapInfo Pro Advanced? | Click Here |
| A look at the powerful grid colouring capabilities in MapInfo Pro Advanced. | Click Here |

Getting your raster data into MapInfo Pro Advanced

MapInfo Pro Advanced is an add-on for MapInfo Pro. Of course, that means all of the vector GIS capabilities are present. This article will focus on the raster grid formats supported by the software.

Below is a list of supported grid formats.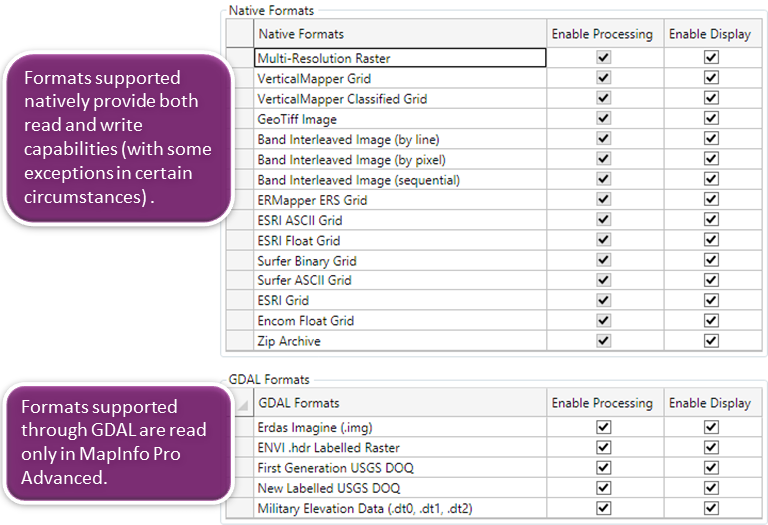 In previous articles we've mentioned the awesome power of the Multi-Resolution Raster (MRR) grid format. MRR is a format developed by Pitney Bowes to make up for a general lack of capabilities in existing raster grid formats. And while we believe this format offers tremendous advantages you are by no means required to use it. Should you need to share data with other systems there is a long list of formats that MapInfo Pro Advanced can both read from and write to. But first, here is some information on the MRR format.

The Multi-Resolution Raster (MRR) format

MRR is the native format for MapInfo Pro Advanced. As we've mentioned before it is an innovative new format that provides very powerful capabilities:


MRR is a new raster format developed by Pitney Bowes.
MRR is used extensively by MapInfo Pro Advanced as a data cache.
MRR unifies raster storage - image, grid and classified data can all be held by this format, singly or in combination in the same file.
MRR supports huge raster files, limited only by storage capacity.
MRR imposes no size related performance penalty.
MRR is sparse (it doesn't take up space for null data) and has no pre-defined or fixed extent.
MRR uses compression to minimise the size of raster files.
MRR stores overview levels in a data pyramid, this enables efficient rendering at any scale.
MRR has a flexible and unrestricted field and band structure. Fields and bands can be used to store different information in the same grid. (We'll cover some ways to use this in a future article.)
MRR comes packaged as a single file. An MRR can contain many datasets.
MRR has additional capabilities such as support for the temporal dimension which will be exposed in future releases of the software.
Converting and Merging raster grid data

The Convert and Merge capabilities are available from the Raster Tab in the Operations gallery. Below is how these capabilities appear in the MapInfo Pro Advanced release (October 2015).



Merge allows for merging a large number of individual grid files into a single grid file. This will be covered in more detail in a future article.

Convert

The Convert capability provides the facility to convert a raster from one format to another.
It is possible to convert from any format to MRR
It is possible to convert MRR to other formats, with some restrictions.
Conversion between various legacy formats is also supported with restrictions.
One source of restrictions is that Field counts and types, band counts and band data types may restrict conversion options. The necessary capabilities must be in the destination format.
When converting a Vertical Mapper GRC file, the only option is to convert it to an MRR. It can be converted to a continuous grid, a classified grid or to an image.
Size restrictions may be relevant. For example, the Vertical Mapper grid formats have a limit of approximately 2 GB in file size.
It is not possible to use the Convert tool to convert a continuous (numeric) grid into a classified grid. However, this can be done with the Classify tool.
The Convert capability is straightforward to use: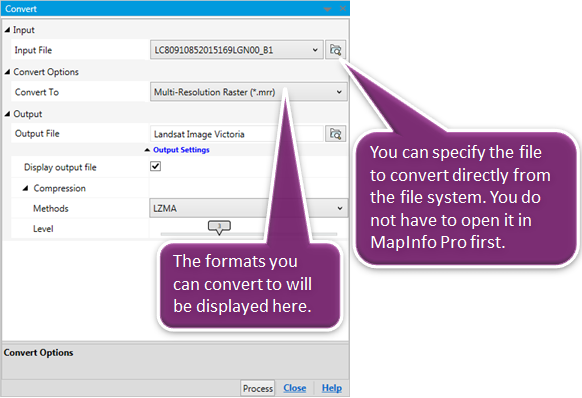 In the Convert example above, a Landsat8 image (originally in a GeoTiff format) is being converted to an MRR file.

Comments on GeoTiff files

TIFF is a very widely used raster data transfer format. It has been said that TIFF stands for "Thousands of Incompatible File Formats" (a thanks to Sam Roberts, one of our Senior Developers, for letting me in on this joke). Nonetheless, the MapInfo Pro Advanced TIFF driver provides comprehensive read and write support for TIFF imagery and grid data.

Comments on the BIL, BIP and BSQ formats

BIL, BIP and BSQ are widely used raster formats for spectral and imagery data. These files can also contain grid data. MapInfo Pro Advanced provides comprehensive support for reading and writing these band interleaved formats.

Comments on the Vertical Mapper GRD and GRC formats

Read/write support is provided for both the GRD and GRC Vertical Mapper formats. The GRD format uses scaling and is not recommended for general use. The GRC format is a classified grid format and in MapInfo Pro Advanced has been superseded by the Multi-resolution raster format.

Comments on the Arc ASCII, Arc Float and Arc Grid formats

Arc ASCII and Arc Float format are simple single banded grid formats. Data can be found from numerous sources in these formats. If you are working with a source that provides the data in many individual files you can use the Merge capability to both convert and merge the many files into a single MRR file. Hundreds or even thousands of files can be merged in a single operation. (We'll cover the merge capability in a future article but it is easy to use, go ahead and give it a try!)

The more complex Arc Grid format supports rasters of huge size but is not recommended for general use. MapInfo Pro Advanced only supports read access to these grids.

ZIP formats

Most of the supported formats can be read from within ZIP files but write/edit support is not provided. Reading from ZIP files is provided for convenience but if you are going to work with the data regularly then it is advisable to unzip the file. Furthermore, the compression capabilities in MapInfo Pro Advanced make the MRR format an effective alternative to keeping your grids in ZIP files.

What's next? Combining and Merging

Converting is used to change one file to another format. Merging is used to combine many files into a single raster. A merge can also convert at the same time. We'll cover this in more detail in a future article but it is pretty easy so give it a try!

The Combine feature allows you to combine different grids and arrange them into individual fields or into multiple bands associated to a single field. It is another dimension in working with raster data. Of course, we'll also cover this in a future article as well.

Want to try MapInfo Pro Advanced?

The first release of MapInfo Pro Advanced is available for all to use until the end of October. Contact Tom Probert (tom.probert@pb.com) if you wish to try the software.

The second release will be concurrent with MapInfo Pro v15.2, scheduled for late October. A free trial of this release will also be made available.

Article by Tom Probert, Editor of "The MapInfo Professional" journal

When not writing articles for "The MapInfo Professional", Tom enjoys talking to MapInfo Professional users at conferences and events. When not working he likes to see movies with car chases, explosions and kung-fu fighting.