Do you have MapBasic applications you want to run in the 64 bit version? Give them a try!


Do you have MapBasic applications that you rely on? Are you concerned that you cannot move to the new 64 bit version of MapInfo Pro because of these applications?

We recommend you give them a try! We have invested effort in allowing legacy MapBasic applications to continue to run in the 64 bit version. We cannot guarantee that all applications will work but many of them do. Here are some details...

Run Program

In the 64 bit interface, the command to run a MapBasic program is in the Tool Manager. The Tool Manager is accessible from the Home tab. Click on the Options drop-down list to find the Run Program command.





If you prefer a floating or docked Tool Manager window you can also open it from the Window gallery.

Here are some things you need to know to work with legacy MapBasic applications in the ribbon interface.

What happens to menus?

First, after running an application, you will find it listed in the Running tab in the Tool Manager. In the example below, an application called ConnectTheDots is running. Note the menu commands that appear when you right-click on the application.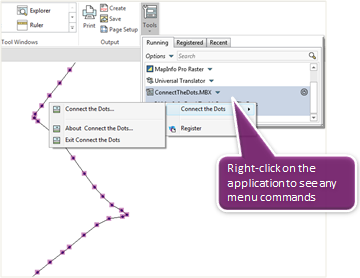 ConnectTheDots draws a polyline or polygon in the order that point objects appear in a table. This MapBasic application is available from the Pitney Bowes Community Download site.

Legacy application behaviour - Button pads

An application that includes ButtonPads can also be run in the 64 bit version of MapInfo Pro. Since the new user interface no longer includes button pads the buttons are added to a special Legacy tab on the ribbon.





The example above is an old MapBasic application that adds some drawing tool capabilities to MapInfo Pro. In the legacy user interface these would appear on a button pad. In the ribbon user interface, a special Tab called Legacy appears and the button icons appear on this.

The MapBasic application mentioned above is called DrawTools and is available from the Community Downloads site.

What applications will and won't work

Not all of your old legacy MapBasic applications will work. You have the best chance when you have a "pure" MapBasic application that does not rely on third party code or external function calls.

Here are some of the circumstances which may prevent a MapBasic application from running. In some cases an application may work partially.


Missing capabilities: An old MapBasic application will not work correctly if the capabilities are not in the 64 bit version of MapInfo Pro. Two key example here are the Graph window and the legacy Layout Window.
Dynamic Link Librarys (DLLs): An application that calls a DLL will need a 64 bit version of that DLL. This is true for a variety of commercial add-ons produced for MapInfo Pro.
Windows function calls: Sometimes a windows function call might work without needing any changes to the MapBasic code. If the function was not changed by Microsoft in the 64 bit version then it can work. A Windows function that has been changed could cause a problem.
It is good that your MapBasic apps run, but do you want to make your MapBasic app better?

Being able to run old applications without having to update them may be a great convenience. Consider that you do not even need to have the source code - just run the MBX!! However, you may wish to take advantage of the new user interface capabilities in MapInfo Pro to improve your MapBasic applications.

The new user interface is built using .NET objects. A MapBasic Common Library is available which will help to make it easier for MapBasic developers to create a new user interface for their applications in the 64 bit version.

The MapBasic common library is available from our Community Downloads site. Click here.

An article in our "Developer Dojo" series covered this in a previous issue of the journal. Click here.

What about MapInfo RouteFinder, Discover, Vertical Mapper and other add-ons?

These applications require a 64 bit version:

A 64 bit version of MapInfo RouteFinder is scheduled for March 2016.
A 64 bit version of MapInfo Discover is scheduled for late November 2015.
Vertical Mapper is being replaced by MapInfo Pro Advanced. This journal has a number of articles about MapInfo Pro Advanced. The first release is available to try for free.
Engage 3D and 3D Pro are also being replaced. Engage 3D Pro users will want to check out the 64 bit version of Discover when it becomes available. Those using the Engage 3D product can consider either MapInfo Pro Advanced or Discover 3D.
The above applications are all produced by Pitney Bowes. If you have an application from one of our partners or other third party, you should enquire with them as to their plans for supporting the 64 bit version of MapInfo Pro.

Have you tried the 64 bit version yet?

Links to MapInfo Pro free trials in a number of languages can be found here:
http://web.pb.com/mapinfopro-archive/resources

Article by Tom Probert, Editor of "The MapInfo Pro" journal
When not writing articles for "The MapInfo Pro" journal, Tom enjoys talking to MapInfo Pro users at conferences and events. When not working he likes to see movies with car chases, explosions and kung-fu fighting.