Easy Tips for working with multiple windows


| | |
| --- | --- |
| | It is very common to work with multiple windows in MapInfo Professional. A workspace may include multiple maps, browsers and layout windows (and other windows, besides). This article contains a number of tips for navigating, arranging and managing your windows. |

Rearrange windows with the Tile Windows and Cascade Windows commands

The Window menu has two useful commands for quickly rearranging all your maps, browsers, legend, graph and layout windows.

Tile Windows divides the screen equally amongst your open document windows.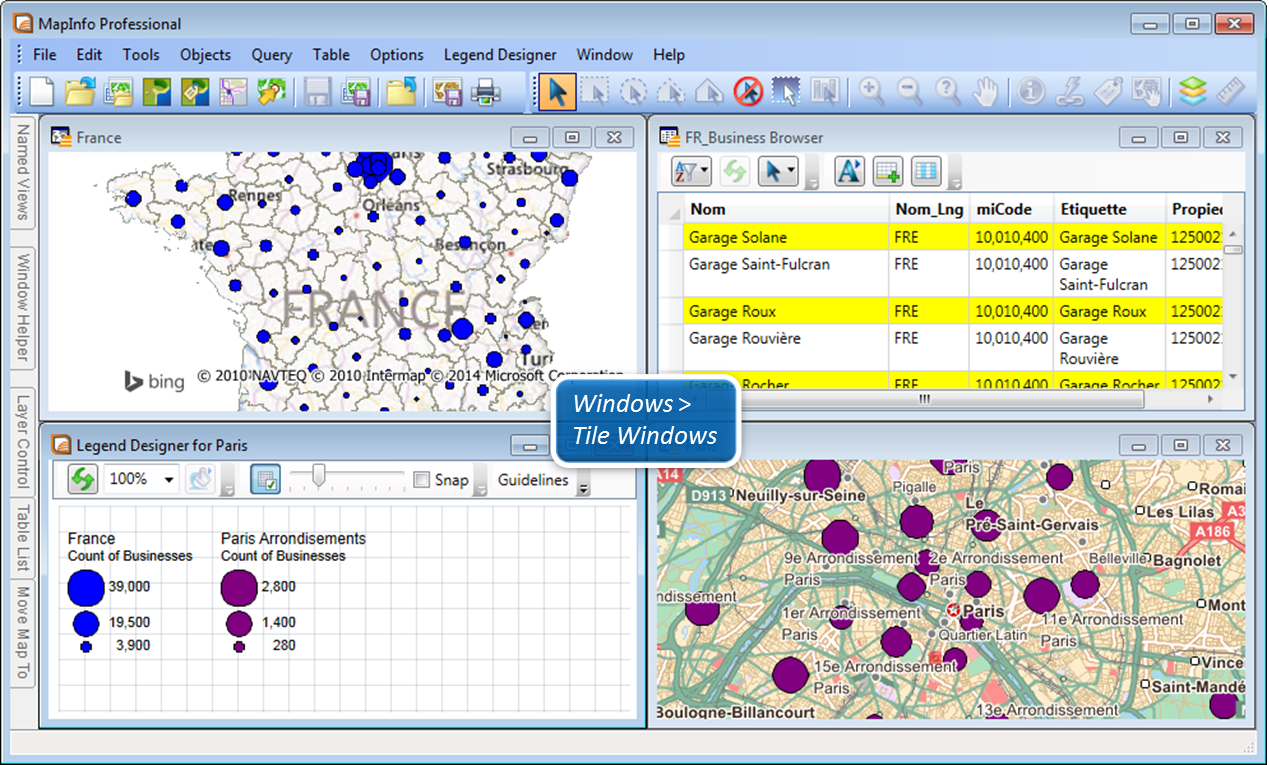 Map data is StreetPro France © TomTom BV and from the Microsoft Bing services.

Cascades Windows arranges the windows so all title bars are showing.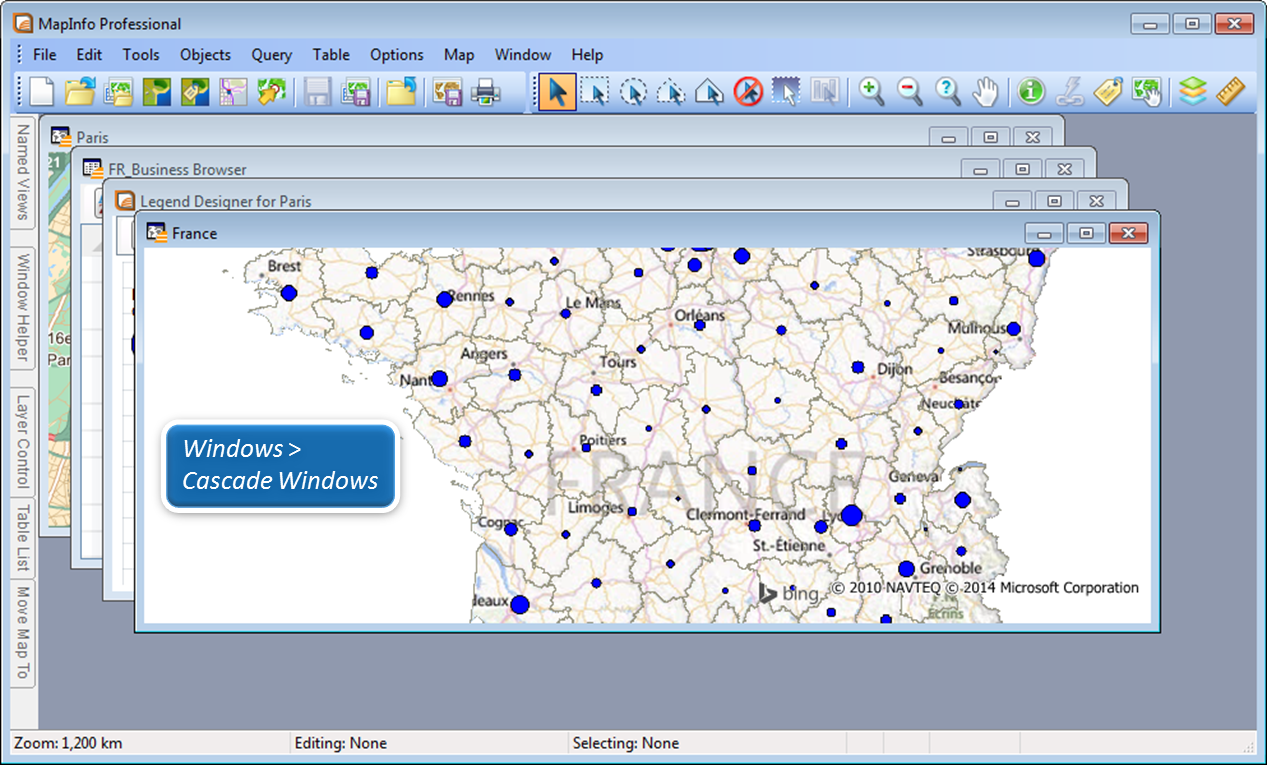 An extra tip for the Tile and Cascade commands...

When you execute the Tile or Cascade Windows command, the front window will be the first window (left or top left) when tiling windows and will be the front window when using the Cascade windows command.

Thanks go to Luc Bontemps, from our partner Projections in Belgium for pointing out this handy tip.

What windows do the Cascade and Tile Windows commands work on?

The Cascade Windows and Tile Windows commands pertain to map, browser, graph, legend (both the older legend and the new Legend Designer windows), layout windows, the Redistricter window and the MapBasic window.

Keyboard shortcuts for Tile Windows and Cascade Windows

Use Shift+F4 to Tile Windows
Use Shift+F5 to Cascade Windows
More tips for managing your windows
Use Ctrl-Tab to switch between windows - A way to quickly switch between windows (aside from the Window menu) is to use Ctrl-Tab. This is keyboard shortcut that allows you so switch the front window. It can be used repeatedly to switch amongst a number of windows.
Keeping multiple Map windows synchronised - If you have more than one map window open and you want the zoom and/or centre point to remain the same for all windows there is a handy Sync Windows tool. We covered this tool in the very first issue of the journal. Click here to learn more about Sync Windows.
Recovering off-screen windows and renaming windows - Another early issue in this journal introduced how to rename your windows as well as hot recover windows such as the Info Tool or Statistics window if they are not appearing in MapInfo Professional. Click here to learn more.
The Window Helper tool - A very handy tool for managing windows has been created by Peter Moeller, one of our Systems Engineers. As mentioned in the "Rummaging in the Toolbox" article, a new version has just been released. Here is a link to the most recent article on Window Helper. And here is a link to download the tool.
Do you have questions?

Why not join our LinkedIn Group.
Feel free to post questions and I'm always happy to get suggestions for topics to appear in this journal.

Article by Tom Probert, Editor of "The MapInfo Professional" journal

When not writing articles for "The MapInfo Professional", Tom enjoys talking to MapInfo Professional users at conferences and events. When not working he likes to see movies with car chases, explosions and kung-fu fighting.