Rummaging in the Toolbox - Getting Coordinates into your Table


| | |
| --- | --- |
| | A common request I get is how to extract coordinate values from a table. There are lots of ways this can be done in MapInfo Professional, including using the SQL Select or Update Column capabilities. While it is not hard to use those features within MapInfo Professional to get X and Y values, they do require multiple steps. |

To make this an easy process within MapInfo Professional you can use the Coordinate Extractor tool.

The Coordinate Extractor does exactly what it's name describes. It can extract coordinate values from a table either in the table's native projection or using another projection for each object in the table. The coordinate extractor is found within the Tool Manager. To use it, follow the steps below.
First, make sure the table you wish to extract values from is open. Keep in mind, this tool will not work on selections, seamless tables, raster images, read-only tables and tables opened via ODBC.
Run the tool. It is found in the Tool manager (Tools menu)
Navigate to Tools > Coordinate Extractor > Extractor Coordinates.
When the Coordinate Extractor dialog displays, it's now a matter of filling it out. Identify your table, specify the columns to populate the x and y values into. You can build in new columns to house the coordinate values if needed. Choose whether you want to use the table's native projection or to use a non-native projection.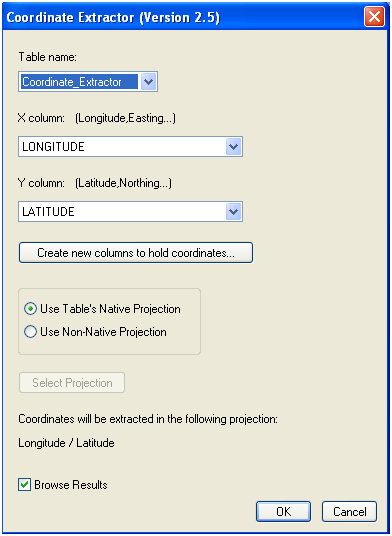 Press the OK button and you're done!
Article by Sue Disy, Senior Sales Engineer

When not writing articles for "The MapInfo Professional" journal, Sue works with Pitney Bowes Customers all over North America as a Sales Engineer. When not working Sue enjoys staying active. You may find her horseback riding in the Adirondack mountains, practicing yoga, enjoying personal travel or staying home and cooking in her kitchen.