Sneak Preview! Labeling enhancements in MapInfo Professional v12.0
Article by Rob Savage, Global Product Manager.

| | |
| --- | --- |
| | MapInfo Professional v12.0 will bring improvements to a number of areas of the software. One of the key areas of focus is significantly enhanced labelling capabilities. The objective of these improvements is to make it easier for you to create nice cartographic output. If MapInfo Professional can automatically place more labels for you nicely on the map then that is less time required to manually change labels. |

Labelling line objects - a street map example

Some of the new capabilities in v12.0 are on display in the screen shot below.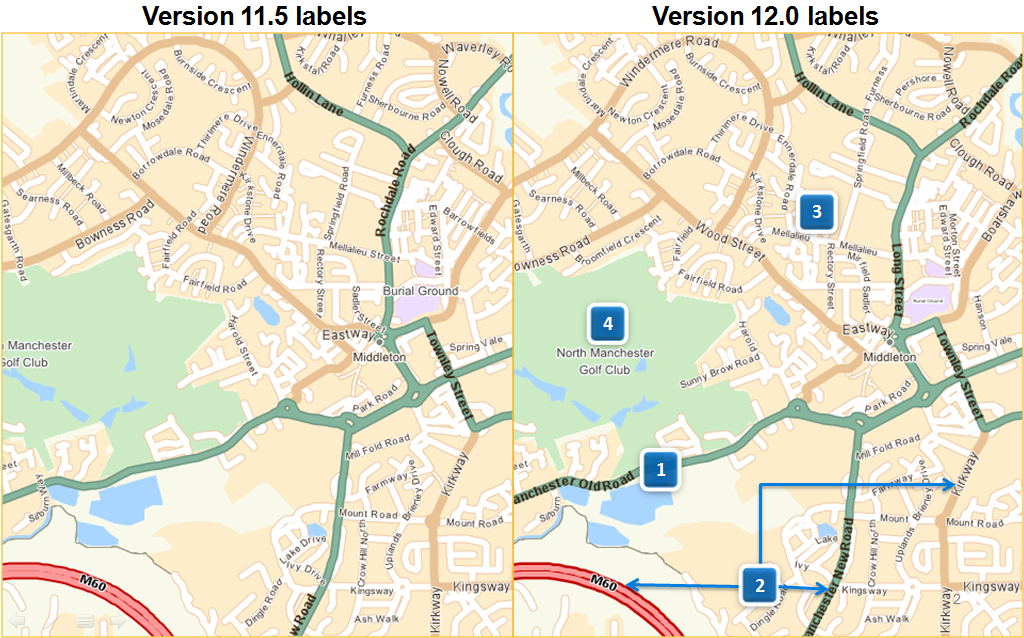 Comparison of labeling street maps. The map data in these screen shots is MapInfo StreetPro UK. © TomTom BV. 1) A new Auto Position option offers better placement for labels along a polyline.

2) Layers can be prioritised for labeling. In this map the motorway and major road layers are a higher priority than the neighbourhood roads. Note that more of the green and tan roads are labelled and the labels for these roads are on the road centreline.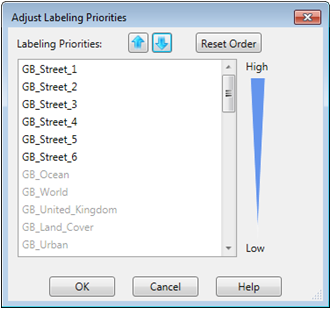 This dialog box is found in Layer Control. It is used to set the priority of layers for labelling.

3) An option to use a second column or expression for abbreviations is now offered. In this map the neighbourhood road layer has been set up such that an alternative label that eliminates the suffix of the street name (i.e. "road","place","crescent","street", etc) is used. If the full label does not fit then an the abbreviated version is tried.

4) A new Auto Position Label within Region option provides smarter positioning of region labels.

Labelling Regions - A World Map Example

The following map is using the MapInfo WorldInfo dataset. A number of new labelling capabilities have been employed. Note that all of the labels created below have been generated automatically using new capabilities available in MapInfo Professional v12.0.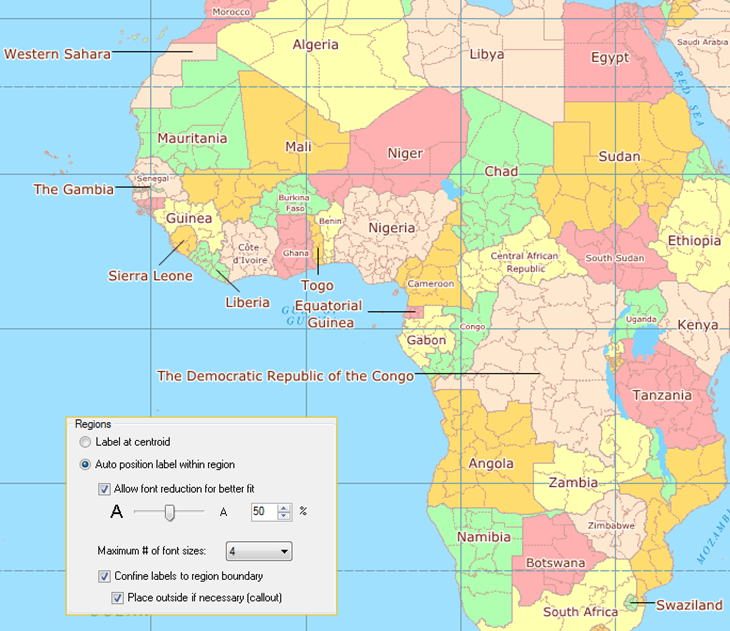 Labelling regions with MapInfo Professional v12.0. All of the labels in this map were generated automatically using the settings seen in the enclosed dialog box snapshot. Map data is MapInfo WorldInfo © Pitney Bowes Software.

More to come!

The improved labelling is just one area of improvement in MapInfo Professional v12.0. Stay tuned for more information! We'll bring you more handy tips and tricks for the labeling and cover the rest of the new capabilities in future issues.

Article by Rob Savage, MapInfo Professional Global Product Manager
When not writing articles for "The MapInfo Professional" journal, Rob enjoys talking to MapInfo Professional users about how the software can best meet their needs. Rob also enjoys nothing more than spoiling a good walk by hacking his way around a golf course and watching all forms of motorsport, especially Formula 1.