Easy Tip: Keyboard Shortcuts!


Every issue of this journal includes one or two keyboard shortcuts in the right-hand side bar. We'll continue to do that but we also thought it might be helpful to point out the list of shortcuts you can find in the MapInfo Pro Help.

This article pertains to both the 32 and 64 bit versions of MapInfo Pro.

Getting a list of Keyboard short cuts

The MapInfo Pro Help file includes a list of keyboard shortcuts. You can access the MapInfo Pro help by pressing the F1 key.

In the Search box type in 'Keyboard' and you will find a link to the appropriate help topic.

Here is the Help from v15.0 (32 bit version). The help topic you need is called "Keyboard Shortcuts".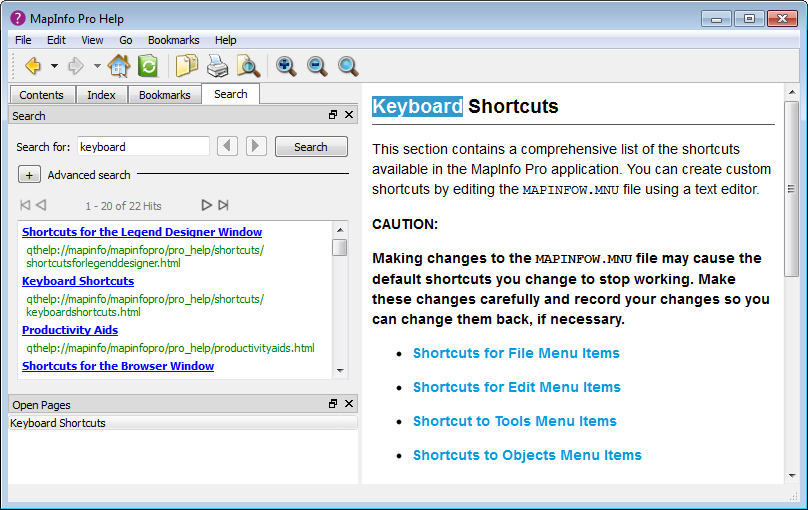 And here is the help from v15.2. The topic you need is "Shortcuts by Keystroke".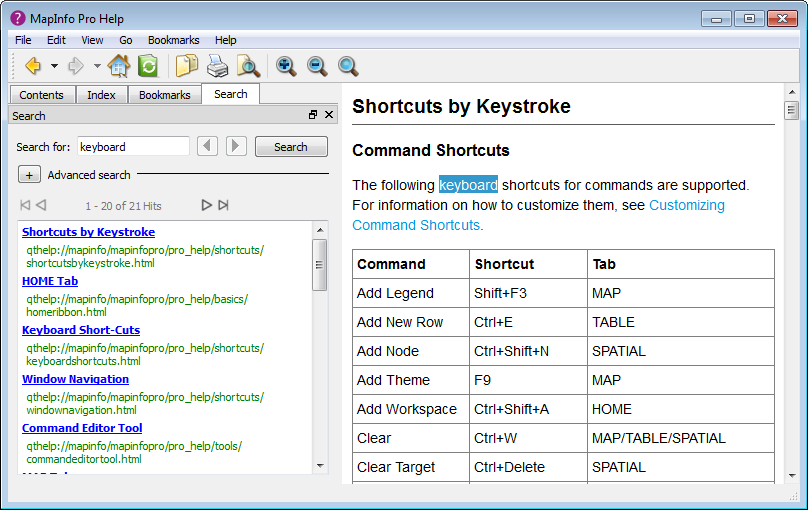 Note that even though a letter may appear capitalised, (such as Ctrl-X) you don't need to use capital letters. If a Shift key is needed, it is indicated.

A few good shortcuts:

Here are a few keyboard shortcuts you might like to know about. Unless otherwise noted, these all pertain to both the 32 and 64 bit versions.

I've added a couple good mouse short cuts too!

Map Window:
Press the 'X' key to change the size of the mouse cursor. Use this if your mouse is obscured by your map. This may be helpful with maps using aerial photos.
Press the 'C' key to get a cross-hair cursor that extends the length and width of the map window.
Press and hold the middle mouse button to use the Pan (Grabber) tool.
When editing objects use Ctrl+R to go into Rehape mode.
Use Alt+Left Arrow to go to the previous view.
Browser window:

To open a new Browser window, the short-cut is different in the 32 bit version as compared to the 64 bit version.
In the 32 bit version use the F2 key.
In the 64 bit version use the F4 key.
Side note: You might wonder why we changed it in the 64 bit version. The reason is the F2 key is often used in Microsoft Windows as a shortcut to put a control into edit mode. An example is if you click on a layer in Layer control and then press F2, you can then create a friendly name for the layer (v12.5 and later).
Use Ctrl+E to add a new row in a Browser window. Note that this only applies if the table can be edited.
When editing data in a Browser window you can triple click in a cell to select the entire contents of that cell.
Other shortcuts:

Quite a few Windows standard shortcuts are used.
Ctrl-C is the command to copy something to the clipboard.
Ctrl-X is the command to cut something and place it in the clipbard.
Ctrl-V is the Paste command.
Use Ctrl+O to open a table.
Use Alt+F4 to exit MapInfo Pro.
Use Ctrl-S to save edits made to a table.
Mini-toolbar in the 64 bit version!

Technically speaking this isn't a keyboard shortcut but it is a shortcut to quite a few things!

Right click in a map window to bring up the Mini-toolbar. This has some very useful commands.





The Mini-toolbar is found only in the 64 bit versions of MapInfo Pro.

There are many more shortcuts. We'll continue to feature shortcuts in each issue of the journal and be sure to check out the Help file as mentioned above.

Make your own keyboard shortcuts (64 bit versions only)!

The 64 bit versions of MapInfo Pro include the ability to customise the keyboard shortcuts to your liking. This is found in the Command Editor tool in the Tool Manager. Here is a link to an article on the Command Editor. http://web.pb.com/mapinfopro-jul-2015/Toolbox-Command-Editor/

Do you have the latest version of MapInfo Pro?

If not, a free trial is available.

Links to MapInfo Pro free trials in a number of languages can be found here: http://web.pb.com/mapinfopro-archive/resources

Written by Tom Probert, Editor of "The MapInfo Professional" journal
When not writing articles for "The MapInfo Professional", Tom enjoys talking to MI Pro users at conferences and events. When not working he likes to see movies with car chases, explosions and kung-fu fighting.