Easy Tip! Better Scale Bars in MapInfo Professional v12.0


One major area of focus for MapInfo Professional v12.0 is improved cartographic output. Last month we discussed some of the labeling capabilities. With respect to creating cartographic output version 12.0 also has improvements in creating scale bars, understanding/printing to scale, the Legend Designer window and the Layout window. In this article we will focus on the improvements to the Scale Bar.

We'll start with a short overview for any users of MapInfo Professional who are not familiar with creating scale bars. If you are comfortable with using the Scale bar, skip down to the section "Scale Bar Improvements in MapInfo Professional v12.0".
Scale bar basics: How to create a scale bar
We've not covered this before so first things first. Click on the Map Menu and choose Scale Bar...

A dialog box appears where you can set the initial position of the scale bar. You can always change it so don't worry about this dialog box too much. The magic happens in the next dialog.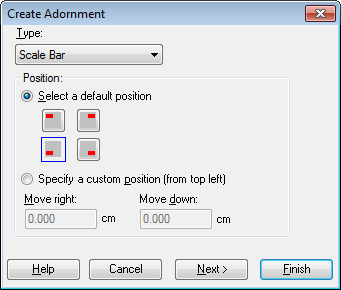 Click Next >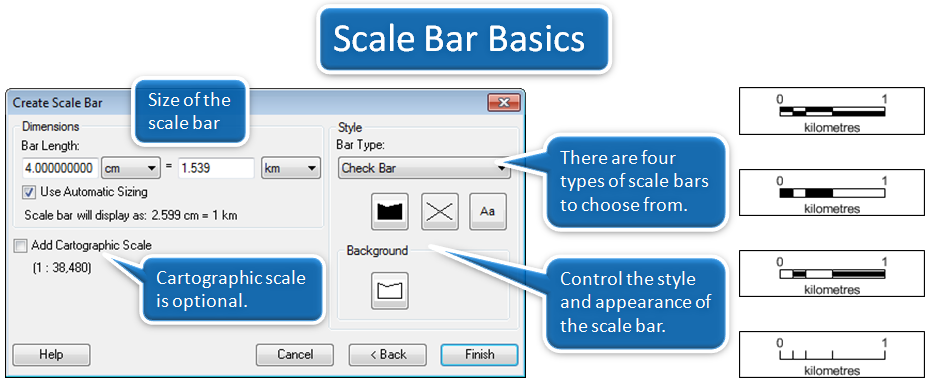 To get started click on Map > Create Scale Bar...

Setting default Preferences
Default preferences for scale bars, such as the starting width and height, the type of scale bar and the colours and styles used can be set in Options > Preferences > Map Window > Adornments.

Modifying or removing a Scale Bar

Double click or right-click to modify a scale bar. The right click menu also offers the option to remove a scale bar. Scale bars can be moved around the map window by clicking and dragging.

Scale Bar Improvements in MapInfo Professional v12.0

MapInfo Professional v12.0 has made substantial improvements to the scale bar functionality. A smart automatic sizing option makes Scale bars quicker and easier to create. The appearance of the scale bars is also improved with better use of space, the option for transparent backgrounds and smarter use of decimal numbers.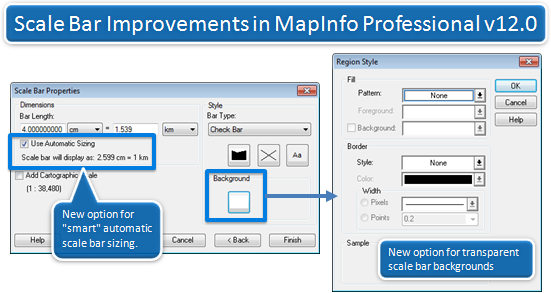 The option to use automatic sizing means that MapInfo Professional will adapt the size of the scale bar to "nice" round numbers. In the example above, instead of drawing a scale bar to the fixed size of 4 centimetres (representing 1.539 kilometres), the scale bar will be drawn to represent 1 km on the map.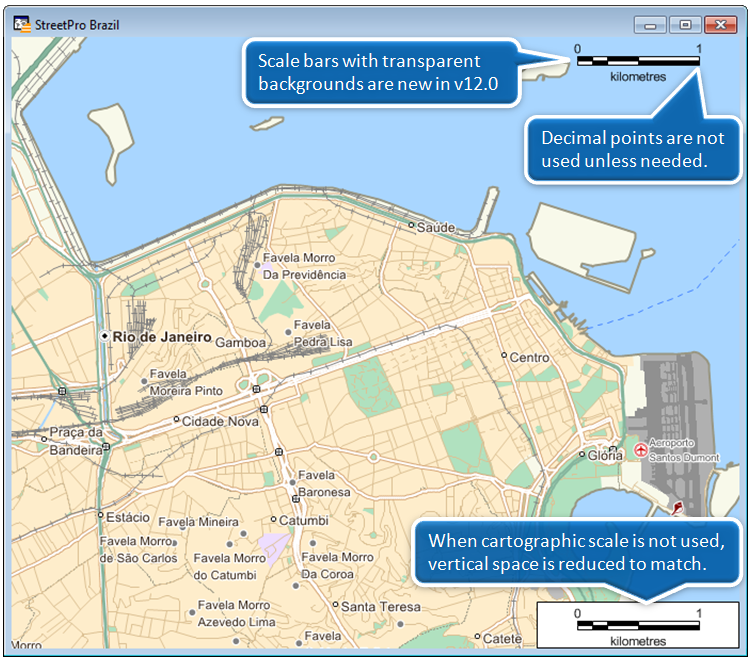 The background map in the screen shot above is StreetPro Brazil, © TomTom BV

In the next issue we will continue to explore what is new in MapInfo Professional v12.0. To see for yourself, a 30 day free trial download is available from our Web site. Click here.
Article by Tom Probert, Editor of "The MapInfo Professional" journal

When not writing articles for "The MapInfo Professional", Tom enjoys talking to MapInfo Professional users at conferences and events. When not working he likes to see movies with car chases, explosions and kung-fu fighting.