| | |
| --- | --- |
| | Rummaging in the Toolbox: The Layout window is not for everything (so try Crystal Reports!) |
By Juan Carlos Cuesta
One of the most important windows in MapInfo Professional is the Layout Window. Most of my customers used it to create dashboards and outputs that provide insight for more people in the organisation. The information may be delivered as images or in a PDF file. Occasionally some customers attempt to use the layout window to share output for which it is not well suited. One example is trying to use Layout window to display extensive data from a Browser window.

Anyone attempting to display a large amount of data in a Layout window will run into a number of issues, such as the number of records and the overall length of the frame. Dealing with multiple pages is not something the Layout window is suitable for and in my opinion not something that should be attempted.

Adding a browser window to a Layout can be effective if the number of records is relatively small (as you can see in the screen shot).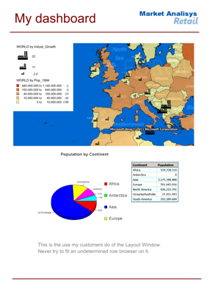 An alternative

If you plan to have a long list of records that you need to share as output consider using Crystal Reports. This is a report writing tool and is provided with MapInfo Professional. It is a very versatile tool that will help you to create wonderful reports, with nice styling and formatting.

Crystal Reports is installed in MapInfo Professional by default and is available from the Tools menu. To get started click on Tools > Crystal Reports > New Report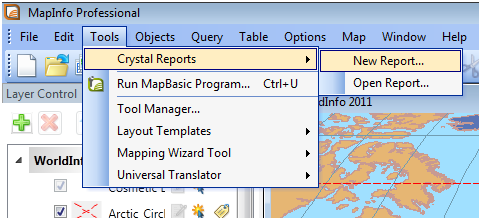 You will need to choose a set of data to work with to get started. If the report looks funny at first, do not worry. It may have too many columns in the page header and detail area. This is easily sorted out.

An easy way to get started is with the Report Expert wizard. This is found in the Crystal Reports menu). It is designed to work as a step by step report engine and will help you create output for a large number of records.


The Report Expert provides a step by step method for creating a report.

The following screen shots step through each tab in the report wizard. The World table, from the MapInfo Professional sample data is being used.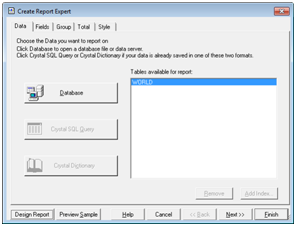 You can navigate through the Report Expert by clicking on the tabs or using the Next>> button.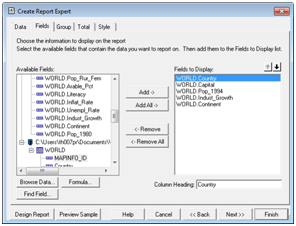 Choose the columns to include in your report.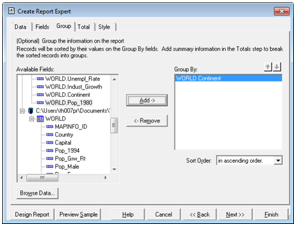 Choose a column to group by. In this example we will group the countries by continent.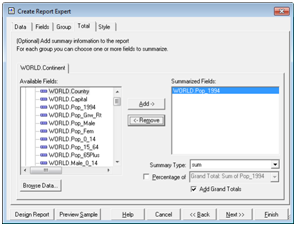 Choose one or more columns for totals.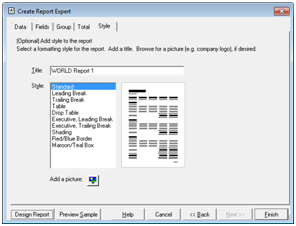 Choose a report style.

When everything is set, click Finish.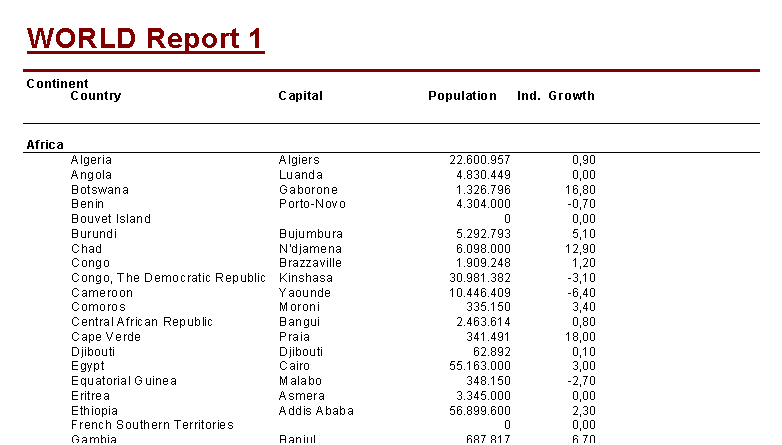 An example result.

Yes, yes, yes, I know you love maps, and if you want that report to have a nice map image you can have it! When you finish your report use the Drag Map tool on the MapInfo Professional Main toolbar to add your map into the report header. (See the screen shot below). The map will be inserted into your report as an OLE (Object Linking and Embedding) Map object.

You can manipulate the map by double clicking on it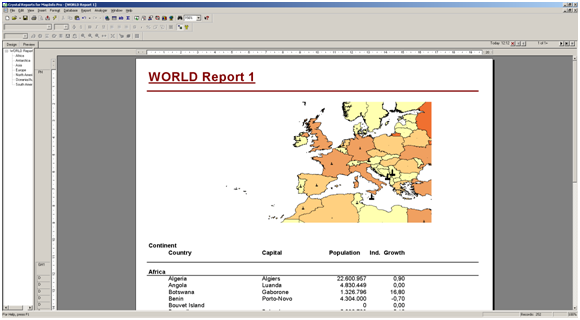 An example of a report with an embedded map.

Editor's note: When preparing this article Juan Carlos learned that the embedding of a map using the OLE capabilities did not work when using the Bing mapping. We have notified our Technical Support people!

Article by Juan Carlos Cuesta, Senior Systems Engineer, Pitney Bowes Software

When not helping MapInfo Professional users to get the most from their software, Juan Carlos likes hiking in the hills with his family, going to the beach and other open air activities.