64 bit: Add the Map Selecting tools to the Quick Access Toolbar


| | |
| --- | --- |
| | You may already know that the Quick Access Toolbar (QAT) is customisable. A question that has come up from a few users is how to add the map selection tools (such as the Radius Select tool) to the QAT. |
If you are unfamiliar with the QAT, you will find it in title bar of MapInfo Pro. It works in a similar fashion to the QAT in Microsoft® Office applications.





A general article on using the Quick Access Toolbar, as well as customizing the ribbon tabs appeared in an earlier issue of this journal. Click here to check out this article.

The purpose of this article is to answer a very specific question: How can I add the map selecting tools to the QAT?

More commands

To do this you need to know where to look. The first step is to click the QAT dropdown button. In the list that appears, find More Commands...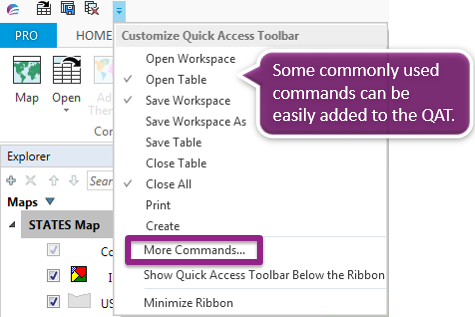 The Customize Ribbon dialog box provides access to all of the functionality that is native to MapInfo Pro.




To find the selecting tools, look in Tool Commands (as above).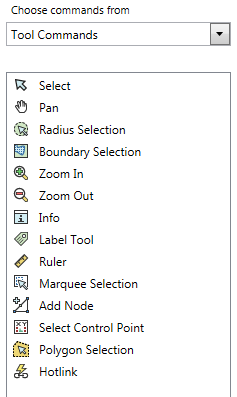 Click on the tools you wish to add and press the Add button.

Here is an example of the QAT with the Radius Selection, Boundary Selection, Marquee Selection and Polygon Selection tools added.





If you are looking for the Select, Invert Selection and Clear Selection tools, they can be found in the Map tab and in Map Commands sections.

Looking ahead

The reason this article is necessary is because the selecting tools are hard to find Customize Ribbon dialog box. We here at Pitney Bowes will see if we can make discovering how to add these particular tools to the QAT more intuitive.

More customisation: Do you like using keyboard shortcuts?

For those of you who like using keyboard shortcuts, check out this article which shows you how to customise the keyboard shortcuts to your liking. You can add a keyboard shortcut to any command you choose! Click here to learn more.

Do you have the latest version of MapInfo Pro?

If not, a free trial is available.

Links to MapInfo Pro free trials in a number of languages can be found here.

Article by Tom Probert, Editor of "The MapInfo Pro" journal
When not writing articles for "The MapInfo Pro" journal, Tom enjoys talking to MapInfo Pro users at conferences and events. When not working he likes to see movies with car chases, explosions and kung-fu fighting.