Rummaging in the Tool box: Workspace Packager Tool


| | |
| --- | --- |
| | Portability of data can always be an issue when working with MapInfo Professional. Think about how many tables you can have in one session and where all those files are located. On the network? On your laptop? Multiple file folders? And think about how overwhelming it could be if you wanted to use that same session of data on different computer. How would you collect and move that data easily from one machine to another? Copying files? Saving files? |

MapInfo Professional comes with a tool found within the Tool Manager called the Workspace Packager. The Workspace Packager will painlessly copy all tables that are currently open to a single file folder and create a workspace with no drive references. This means you can copy the contents of this file folder to a USB stick, CD / DVD, to a separate file folder, even zip up the contents so you or someone else can use this data on another machine. It's also a great way to archive a project.

How to use the tool? Simply navigate to Tools > Tool Manager and check Load and/or Autoload to load the tool into your current session or to give the tool presence in every session of Pro, respectively.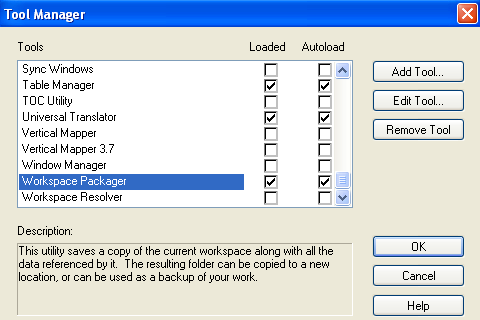 Once loaded, and you have an active session are wishing to copy or share, navigate to Tools > Workspace Packager > Package Current Workspace. The following dialog will present its self.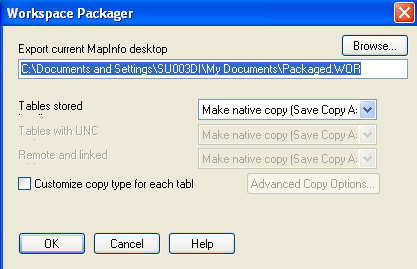 Simply choose an empty file folder to copy the data into by pressing the Browse button. You also have the option to change the workspace name.

The default option is to make a copy of all tables. You also have the option to keep the original file instead of making a copy. You may wish to use this option where tables are very large and/or where the location of the tables is accessible to the other person or system you are sharing the data with.

You can specify whether or not to copy each table individually, if desired. To do this tick the Customer copy type for each table box and press the Advanced Copy Options dialog box. The following dialog box will appear.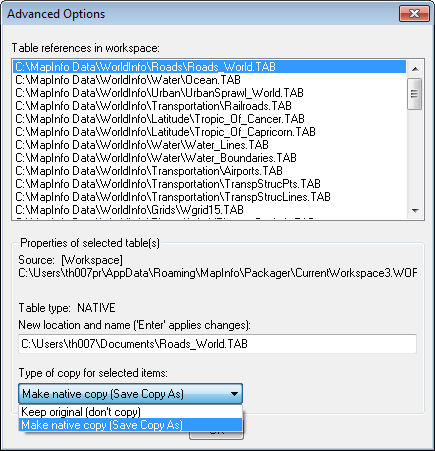 Any tables that you choose to copy are saved in the same folder as the workspace. This makes the workspace and the whole data set easier to move around.
Good luck!

Article by Sue Disy, Senior Sales Engineer

When not writing articles for "The MapInfo Professional" journal, Sue works with Pitney Bowes Customers all over North America as a Sales Engineer. When not working Sue enjoys staying active. You may find her horseback riding in the Adirondack mountains, practicing yoga, enjoying personal travel or staying home and cooking in her kitchen.