What is in the standard MapInfo Pro and what is in the Advanced version?


This article provides an overview of what is included in the standard version of MapInfo Pro versus the Advanced version.

If you are using the free trial of MapInfo Pro and trying to decide if you will need the standard version or MapInfo Pro Advanced, this article will provide helpful guidance on the differences. And if you have the standard version of MapInfo Pro, there are some capabilities available to you to work with raster image data. We want you to be aware of these.

For a more general overview of MapInfo Pro Advanced, check out this article.

About MapInfo Pro Advanced

MapInfo Pro Advanced provides next generation raster grid visualisation and analysis capabilities. It is an add-on first introduced in MapInfo Pro v15.2. MapInfo Pro Advanced takes advantage of a very powerful new grid data format called Multi-resolution raster (MRR).

The standard and advanced versions of MapInfo Pro come in a single installer. The type of license determines which functionality is available to the user. The MapInfo Pro free trial includes the Advanced capabilities.

Viewing grid data for everyone

Although MapInfo Pro Advanced is a separate add-on, there are some raster grid creation and visualisation capabilities available to all MapInfo Pro users working with MapInfo Pro v15.2.

All users of MapInfo Pro v15.2 have access to the new Raster tab.





All MapInfo Pro users can open and view raster files, including those in the MRR format. It is also possible to get information about the raster. The following capabilities are available to anyone using MapInfo Pro v15.2.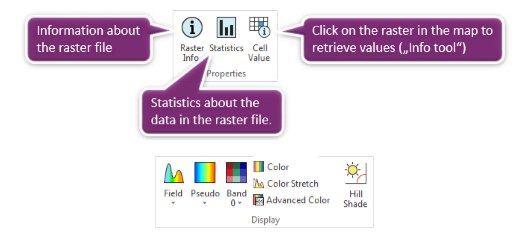 Raster Info: Provides information such as the file name, extension, projection, cell size, type and lots more.
Statistics: Provides statistics about the data in the raster. This includes the minimum, maximum and average values. It also provides info on things like the number of null cells and a histogram of cell values.
Cell Value: This tool is like the MapInfo Pro Info tool but has specific capabilities related to raster grid data.
Once again, all MapInfo Pro users (with v15.2) have access to the above capabilities. More details on how to use the Raster Info, Statistics and Cell value tools appears in this tutorial video. Click here.

Colors and highlights

The grid coloring, hillshading and highlighting capability is also provided to all MapInfo Pro v15.2 users. The grid coloring includes the ability to dynamically set color break values nor matter the grid size. This makes it a very powerful tool for analysis, not just basic visualisation. More info on the grid coloring capabilities appears in this article. Click here.

Converting, copying, renaming and deleting grid data

The standard release of MapInfo Pro v15.2 includes the ability to copy, delete and rename raster files. These are in the File group of the Raster tab.

In addition, the Convert tool allows for the conversation to and from the Multi-resolution raster format as well as the other supported raster formats. This is in the Operations gallery as pictured below. More information on the supported formats appears in this article. Click here.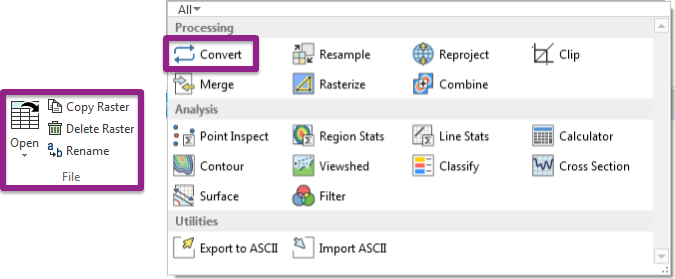 So what raster capabilities aren't included in the standard version?

Everything else in the Processing, Analysis and Utilities groups (see above) are part of MapInfo Pro Advanced.

Sharing raster data with users of earlier versions of MapInfo Pro

The new MRR format is only supported in MapInfo Pro v15.2. If you wish to share raster data files with MapInfo Pro users that have earlier versions of the software, you can consider using other raster data formats such as the Vertical Mapper format.

You can always take a look around

The capabilities that are provided with MapInfo Pro Advanced are always available for you to take a look, even if you are not using the free trial. Click on any command and its associated panel or dialog box will appear. You can see the options that are available. If you don't have the Advanced version and you click on a button to process some data or otherwise use a command a message will appear indicating that MapInfo Pro Advanced is required.

Summary

To sum it up, getting raster data into and out of MapInfo Pro and viewing the data is available to all users of MapInfo Pro v15.2. MapInfo Pro Advanced is required to do things such as merge hundreds of files into a single MRR file, mix data of different resolutions into a single raster file, filter a grid for all of the values below or above a certain amount, create a raster file out of a set of points (interpolation and modelling), combine bands from a multi-spectral image into a single file and lots more!

How to try MapInfo Pro Advanced

The MapInfo Pro v15.2 free trial includes MapInfo Pro Advanced. This is available from our Web site here: http://web.pb.com/miprov15-2

If you have already installed and activated v15.2 you can still try the Advanced version. Go to the Backstage area and click on the Licensing tab. There you will find the option to start your 30 day trial of MapInfo Pro Advanced.

Article by Tom Probert, Editor of "The MapInfo Pro" journal

When not writing articles for "The MapInfo Pro" journal, Tom enjoys talking to MapInfo Pro users at conferences and events. When not working he likes to see movies with car chases, explosions and kung-fu fighting.