How to download Landsat 8 data


This article provides some guidance on how to download Landsat 8 imagery data for use in MapInfo Pro Advanced. It is pretty easy, once you know the steps.

In this separate article we cover some examples on how to use the data, in particular how to work with the data from the different bands.

About Landsat 8

Landsat 8 is an American Earth observation satellite operated by the United States Geological Survey (USGS). It was launched on 11th February 2013. The operating time is designed to be 5.25 years but it has fuel to extend its use possibly up to 10 years of operations. A successor, Landsat 9 is planned.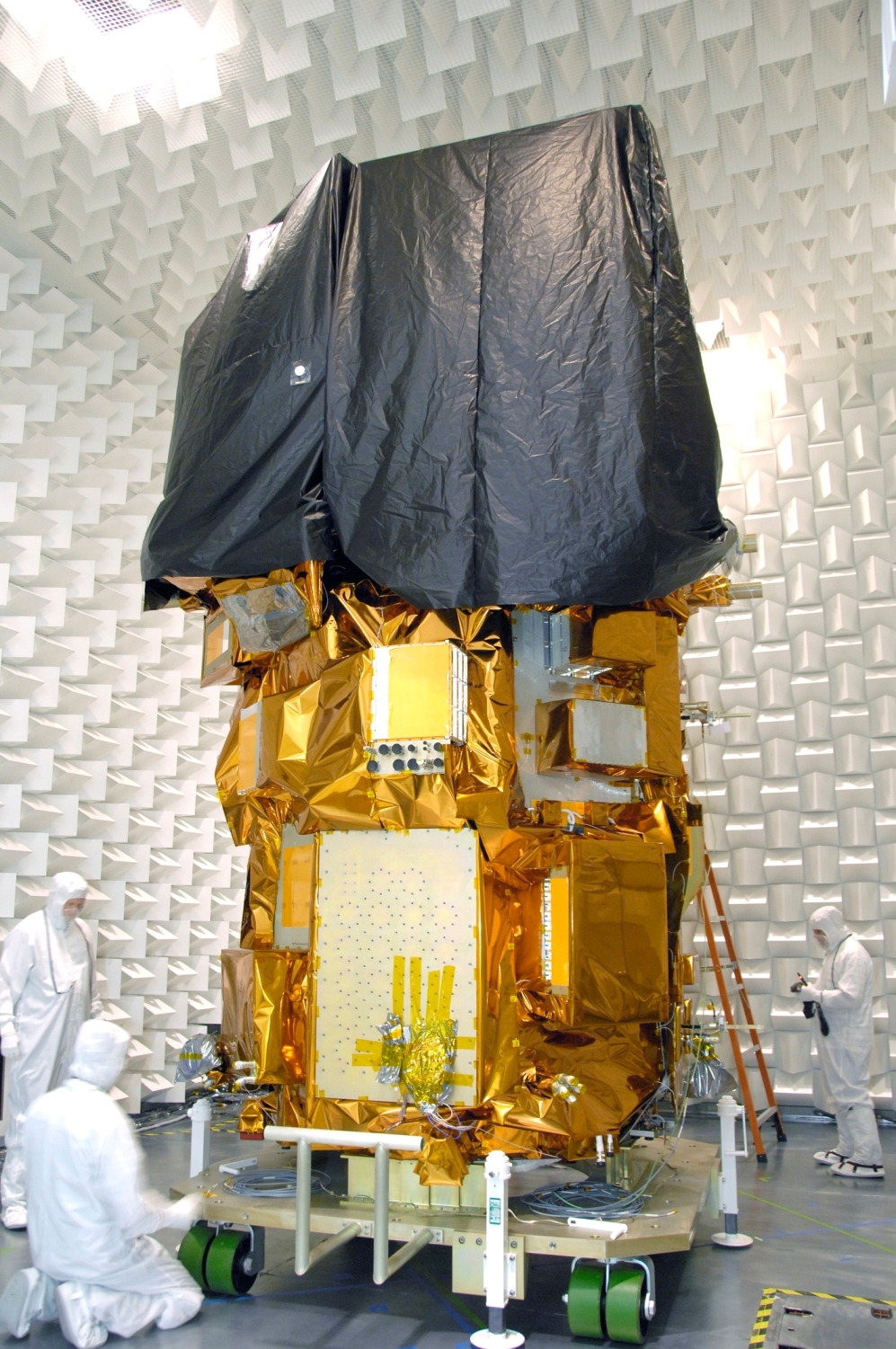 Landsat 8 during ground testing. https://en.wikipedia.org/wiki/Landsat_8

Landsat 8 captures data using two different sensors, the Operational Land Imager (OLI) and the Thermal Infrared Sensor (TIRS). Together these instruments collect data in nine shortwave bands and two longwave thermal bands.

The purpose of Landsat 8 is to provide access to the data it collects to the general public without charge. The data is freely downloadable.

Landsat 8 collects approximately 700 scenes per day. It offers repeat coverage of the earth every 16 days.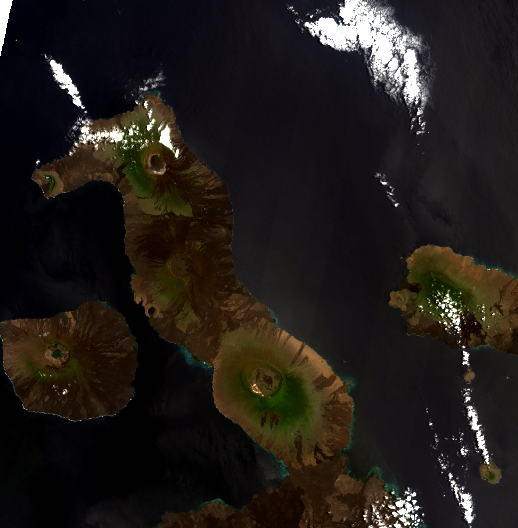 Landsat 8 image showing part of the Galapagos islands.

A quick overview of the Landsat 8 bands

Band 1 - Coastal-Aerosol: See features in coastal areas and shallow water. It is also used in aerosol, dust and smoke detection studies.

Band 2 - Blue: For bathymetric mapping; soil and vegetation discrimination, forest type mapping, and identifying manmade features.

Band 3 - Green: Useful for identifying peak vegetation; plant health.

Band 4 - Red: Identify vegetation types; soils and determine urban features

Band 5: Near Infrared: The water in plants scatters infrared light making this band useful for vegetation detection and analysis. Can be used in combination with band 6 to calculate a Normalised Difference Vegetation Index (NDVI). This is a way to analyse the overall health of vegetation. We'll cover this in a future article.

Band 6: Short wavelength Infrared 1: For vegetation moisture content, drought analysis. Can be used for burned and fire affected areas and detection of active fires.

Band 7: Short wavelength Infrared 2: Additional detection of active fires (especially at night). Also plant moisture and drought analysis.

Bands 1 through 7 are all collected at 30 meter resolution.

Band 8: Panchromatic: Sharpening multispectral imagery to higher resolution. This band has 15 meter resolution.

Band 9: Cirrus: Useful for detecting cirrus clouds.

Bands 10 and 11: Long Wavelength Infrared (Thermal) - Mapping ground temperature and moisture in soils. These bands are acquired at 100 meters and resampled to 30 meter resolution. According to a USGS data sheet on Landsat 8 (see link below), there is calibration uncertainty with band 11 and it is recommended that users refrain from using this band.

The first nine bands are imaged by the OLI. Bands 10 and 11 are created by the TIRS.

The following sources were used to help compile the info in this section:

Landsat datasheet: http://pubs.usgs.gov/fs/2015/3081/fs20153081.pdf
Wikipedia: https://en.wikipedia.org/wiki/Landsat_8

Steps to download Landsat 8 data

Before following the steps below, you will need to register on the site. An account is required.

1. Go to this site: http://earthexplorer.usgs.gov/ (register if you need to).

2. Choose an area where you want to download data. There are some different ways to do this. One easy way is to zoom the map in on the area of interest and click the Use Map button. To do this be sure you are on the Search Criteria tab.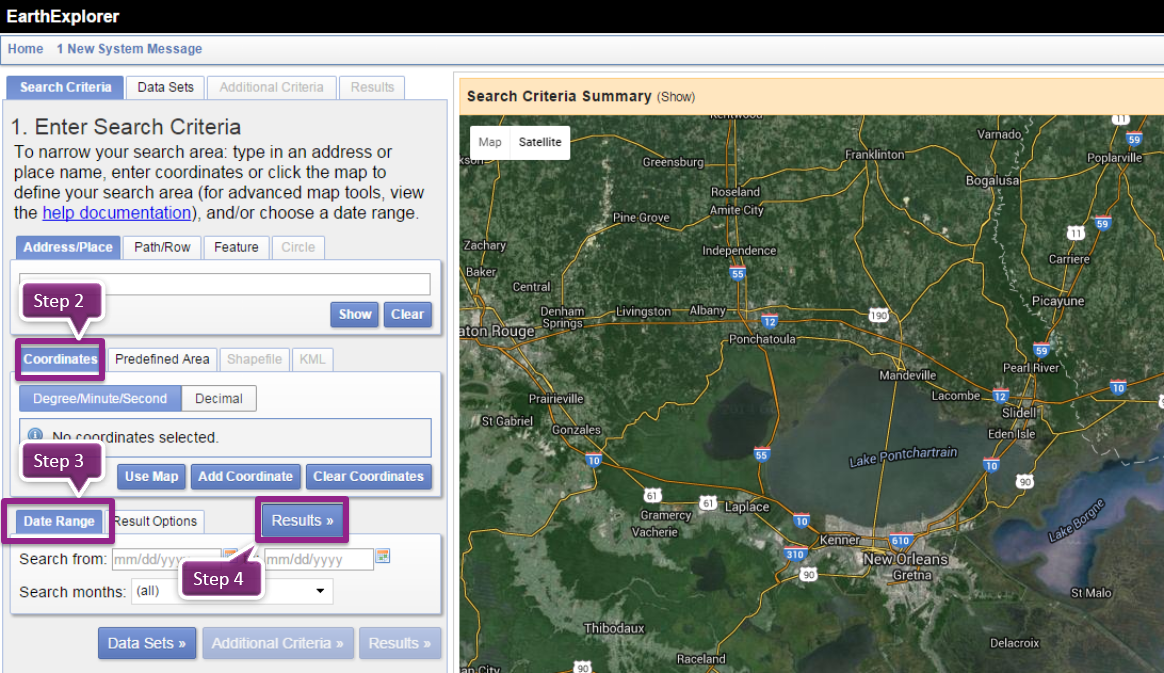 Above: The USGS Earth Explorer interface.

It is suggested you zoom in to around 200km square. (There is a legend at the bottom of the map). When you press the Use map button, the chosen area will highlight. The highlight may include more than just the area of the map you are viewing.

3. Click on the Datasets button. Choose Landsat Archive and check L8 OLI/TIRS.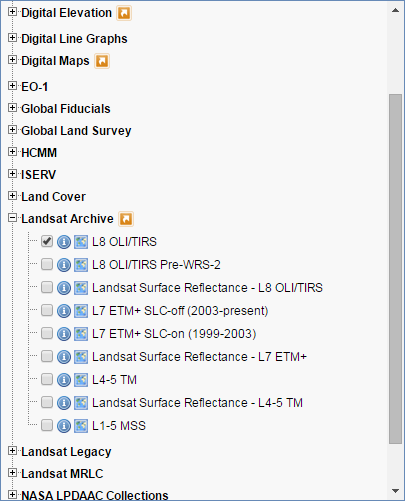 4. Click on the Results button and choose a dataset. You will probably want to choose an image with minimal cloud cover in it. You can click on the thumb nails to inspect them and on the foot icon to see the ground coverage.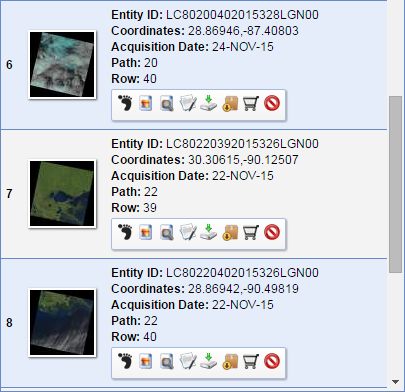 5. Once you have found a desirable data set, click the download icon (usually fourth from right). When downloading data choose the last dataset in the list provided (see below). This will be the raw data in GeoTiff format.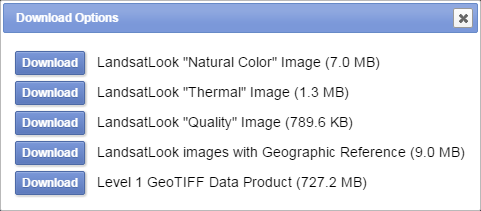 6. The data is provided in a compressed (zipped) format. The file will usually have a .GZ extension. You can use 7Zip or similar software to unpack the file. It may be a two step process. The first unpack will yield a ZIP file. Unzipping this will yield the individual files.

If the first unpacking operation yields a filename without an extension, try manually changing it to .ZIP. Then you can unzip this. (This happened to one of the authors once, I'm not sure if it is a common occurrence.)

The result are a set of GeoTiff files, one for each band. These can now be opened in MapInfo Pro Advanced. MapInfo Pro Advanced includes the ability to combine all the different bands into a single file, modify the display, perform calculations (such as calculate a Normalised Difference Vegetation Index) and lots more! A separate article goes into more detail on this.

Do you have the latest version of MapInfo Pro?

The MapInfo Pro v15.2 free trial download includes MapInfo Pro Advanced. So with the free trial you can try downloading and using some Landsat 8 data in MapInfo Pro.

The free trial is available here: http://web.pb.com/miprov15-2

Article by Tom Probert and Owen Parfrey


| | |
| --- | --- |
| | Tom Probert: When not writing articles for "The MapInfo Pro" journal, Tom enjoys talking to MapInfo Pro users at conferences and events. When not working he likes to see movies with car chases, explosions and kung-fu fighting. |
| | Owen Parfrey: When not writing articles for "The MapInfo Pro" journal, Owen leads the team building MapInfo Pro Advanced. On his off time he can frequently be found outdoors with his family and occasionally on a farm. |