MapInfo Professional v12.0 - More Improvements!


| | |
| --- | --- |
| | In our continuing coverage on what is new in MapInfo Professional v12.0, this month here are improvements in six more areas of the software! These run the gamut from improvement to the MapInfo native data format, database connectivity, Layer Control and more. |

1) Windows 8 Support

MapInfo Professional v12.0 is supported on Windows 8. It will work on Windows 8 tablets but does not have any special support for the UI or special touch screen gestures used on those devices.

2) Increased width of data records

In MapInfo Professional v12.0 the maximum width of a data record has been increased to 64,500 bytes. (Each byte is a character unless you are using a double-byte character set.)

This means you can have many more columns than previously.

Please note that other limitations such as the maximum file size (~2 GB) and the maximum number of characters in a text/character field (254) are still in place.

3) Database support

SQL Server: SQL Server 2012 is supported. In addition the Geography datatype is now supported in MapInfo Professional.

SQLite: MapInfo Professional supports SQLite databases through OSGeo FDO Data Access Technology, so that you can work with spatial data stored in SQLite database files.
This means that:
You can display your existing SQLite data on a map in MapInfo Professional;
You can save your MapInfo tables to your existing SQLite database to take advantage of the capabilities provided by a transactional SQL database engine;
You can create a new SQLite database from MapInfo Professional;
You can share spatial data with other applications, such as Autodesk products: AutoCAD Map 3D, Civil 3D, and Autodesk Infrastructure Modeler.
See the MapInfo Professional v12.0 User's Guide for more information.

Oracle: It is now possible to use Windows Authentication when accessing Oracle databases. Also, with the MapInfo Professional v12.0.2 patch release, Oracle 12c is now supported.

4) Smart zooming for Tile Server layers

When using a Tile Server layer (such as Microsoft Bing®) in your map, it is possible for you to zoom in or out to a zoom level that is not appropriate for the Tile Server layer. This can result in a somewhat blurry map.

MapInfo Professional can quickly zoom the map to match the scale of the Tile Server layer. This is from the right-click menu of the Map window and from Layer Control (see below).

5) Layer Control shortcuts and enhancements

A few handy changes have been made to the MapInfo Professional's Layer Control. These are summarised in the screen shot below.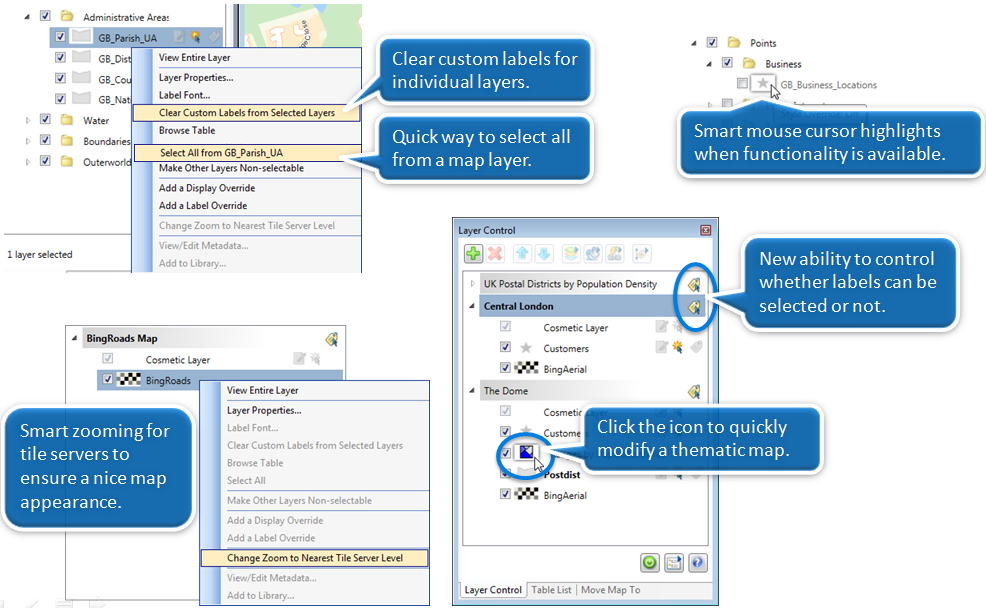 Layer control improvements to save you mouse clicks!

6) Cartographic Scale now displayed by default throughout the software

Making it easier to create nice cartographic output was the primary focus area for MapInfo Professional v12.0. We have covered the improvements made to the labeling, Legend Designer, Scale bar and Layout window in previous articles. Another improvement to make you aware of is the change to how cartographic scale is displayed throughout the software.

In previous versions of MapInfo Professional, a setting was offered to allow you to choose either the standard map scale or to display the cartographic scale. In version 12.0, MapInfo Professional now displays both the Cartographic scale and the map scale. There is no need to invoke a preference. See below for screenshots of Version 12.0 dialog boxes displaying both types of scale.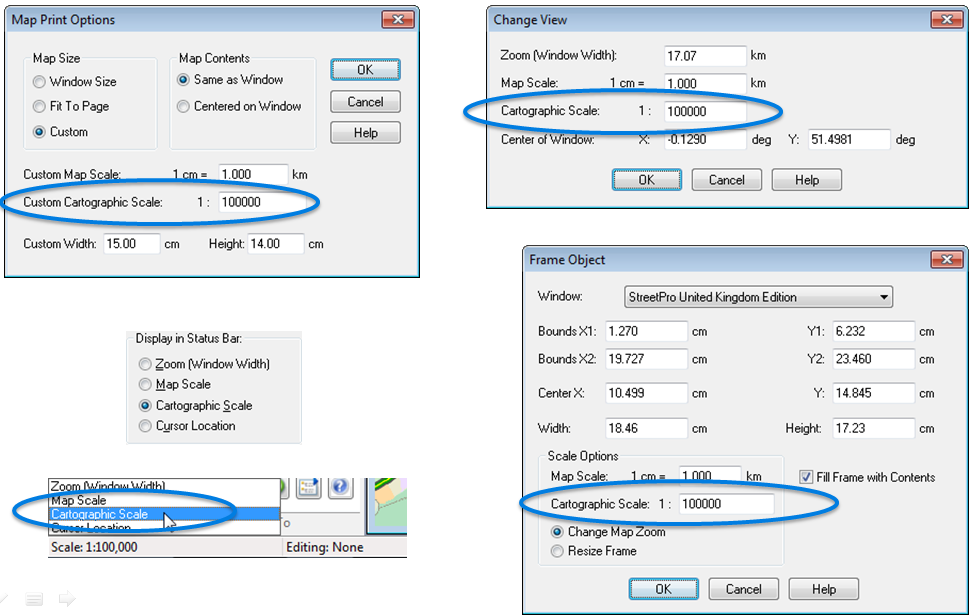 In MapInfo Professional v12.0, the Map Scale and Cartographic Scale are both available throughout the software.

7) MrSID 16 bit format

MapInfo Professional v12.0 now supports the MrSID 16 bit format. MrSID is a raster image file format.

Don't have MapInfo Professional v12.0?

If you do not have MapInfo Professional v12.0 and would like to try it, visit our Web site here.

The MapInfo Professional v12 free trial is currently available for download in English, Swedish, Danish and Finnish. More languages are coming soon.

Article by Tom Probert, Editor of "The MapInfo Professional" journal

When not writing articles for "The MapInfo Professional", Tom enjoys talking to MapInfo Professional users at conferences and events. When not working he likes to see movies with car chases, explosions and kung-fu fighting.