Easy tip - Introducing the Browser Filtering Capability


Last month we introduced you to the New Legend Designer introduced in MapInfo Professional v11.5. If you missed that and are curious, click here.

Another major work area in v11.5 is additional improvements to the Browser window. These include a new quick access toolbar and new functionality for easy filtering of data.
New Browser Window toolbar
The following screen shot provides a functional overview of the Browser window in v11.5. The new tool bar makes a number of existing tasks easier and also introduces some new functionality.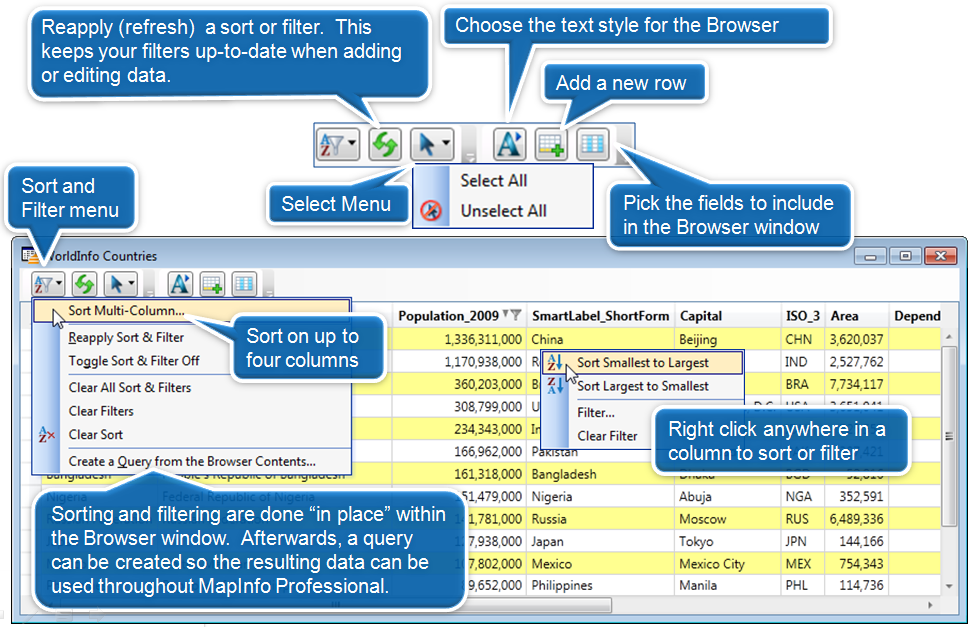 Right click on any column to sort or filter it.

New! Filtering Data in the Browser Window

Right clicking on any column gives you the option to sort or filter.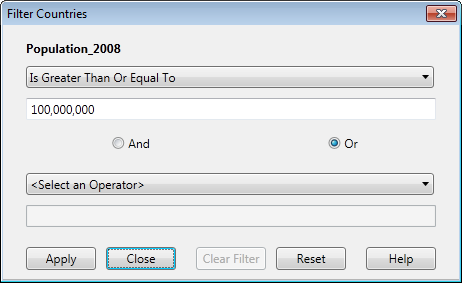 The Filter dialog box.

It is possible to apply filters to multiple columns in your table. The Apply button allows you to see the results without closing the dialog box. You can make sure you have the filter the way you want it before clicking the Close button.

Note that a filter is not the same thing as a query. The filtering takes place within the existing Browser window and does not create a query for each filter operation performed. So...

Now that you've filtered your data, what's next?

If desired, a filter can easily be turned into a query. This allows you to use the filtered data as you would with any query. For example, a new separate Browser window can be displayed or the query can be added as a layer to a map window.

To do this you need to click the Sort and Filter menu on the Browser tool bar and choose Create a Query from the Browser Contents. (See the first screen shot above.)

You will be given the option to name the query and view it in a map or a Browser window.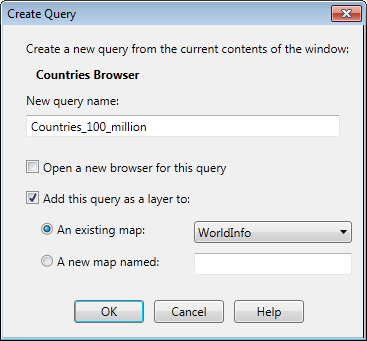 A Browser window that has been sorted and/or filtered can be turned into a query.

Toggle your Browser Sorting on and Off

But wait, there's more. Let's say you have filtered and/or sorted the Browser window and you wish to restore it to its original condition. You can do this in two ways. One is to Clear the sorting or filtering. If you clear it then the settings are gone. A second method is to Toggle the sorting and filtering on and off.


| | |
| --- | --- |
| To clear the filtering from a single column | Right click the column and choose Clear Filter |
| To clear all sorting and filtering | Sort and Filter Menu > Clear All Sorts and Filters |
| To temporarily turn off a filter | Sort and Filter Menu > Toggle Filter Off |
| To restore filtering that has been turned off | Sort and Filter Menu > Toggle Filter On |
| To clear sorting | Sort and Filter Menu > Toggle Filter On |
Finally, for those editing data in a Browser window while a filter or sort has been applied can Reapply the sorting and filtering. There is a button on Browser window tool bar.

What if I want to get rid of the Browser window tool bar?

First, it is worth noting that the Browser window tool bars will not appear in the Layout window.

If you want maximum screen real estate for your data there is a Hide toolbar menu command in the Browse menu.

Questions? Comments? Compliments? Criticism? We welcome all input on this article. Or on the journal. Or on the new Browser window. Or if you have questions. A good place to start a discussion is in the LinkedIn Group we have set up as a companion to this journal. Click here to visit this group.

Software Suggestions?

Pitney Bowes Software (PBS) maintains a public Ideas Portal. If you have suggestions for MapInfo Professional, (and I know you do) then this is the place to log them. In addition, with this portal you can see the suggestions everyone else has written and vote for your favourites! You will also see responses from various people from PBS.

Click here to visit the portal!